Are you dealing with a leaky faucet or a faulty sump pump? When plumbing problems arise, you can always rely on Stanley Heating Cooling & Plumbing for timely assistance.
Since 2005, our trusted technicians have continued to provide quality services for property owners in Dayton, OH, and the surrounding area. Many trust us for plumbing services in Dayton, Ohio, because we provide straightforward, flat-rate pricing, on-time service, and a 100% satisfaction guarantee.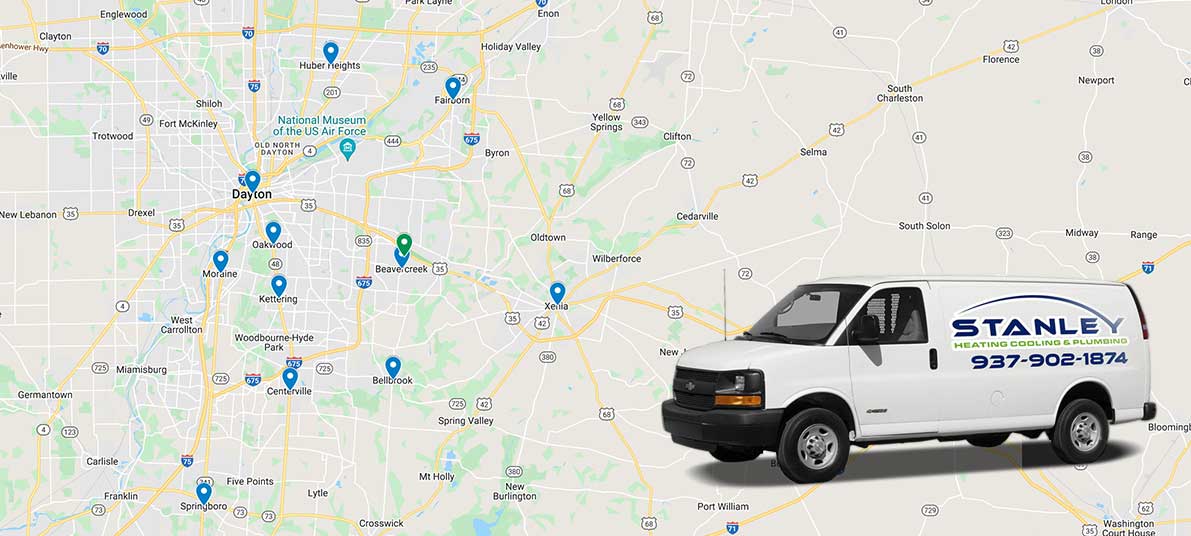 Our plumbing solutions include:
We serve residents in Dayton, OH, and the surrounding communities of:
Old North Dayton
Oregon
Dayton View Triangle
Webster Station
Shroyer Park
Miami Chapel
Grafton Hill
Belmont
University Row
Twin Towers
Highview Hills
Edgemont
And more!
A water softener installation can help preserve your appliances and pipes from the damaging effects of hard water. Get in touch with our experts to learn more!
Problems That Require an Emergency Plumber
Most plumbing issues can wait until morning, but some are more pressing than others. If you're dealing with any of the following problems, call our emergency plumbing service as soon as possible:
Waterline break: Wet spots around your yard, weak water pressure, and poor water quality can all be signs of a water line break. This issue can cause extensive water damage to your property.
Faulty sewer line: If you notice sewage backing up into your plumbing fixtures, it might stem from a broken sewer line. Backups are messy and potentially dangerous, so keep an eye on your plumbing system for these signs of trouble.
Gas line leak: Smells of sulfur or rotten eggs near your water heater or furnace could indicate a dangerous gas line leak. Evacuate your home immediately and call our 24-hour plumbing service to resolve the issue.
Frozen pipes: The winters in Dayton are notoriously harsh, and pipes can freeze in the open air when temperatures start to drop. Frozen pipework can burst at any moment, so it's best to call our team right away.
Whatever issue you face, our BBB accredited and 5-star rated technicians will have your plumbing system performing like new in no time. We always arrive on time and work quickly to avoid further damage to your property.
Should You Repair or Replace Your Water Heater?
If you don't know whether to repair or replace your water heater, we recommend considering these factors:
Age of the unit: Traditional water heaters can last anywhere from 10 to 15 years, while most tankless models have a 20-year lifespan. If your unit is getting old, it might be time for a replacement.
Frequency and cost of repairs: Have you had to fix your water heater multiple times in the past few years? A replacement might be a more cost-effective solution in the long run.
Type of damage: Some issues, like a faulty heating element, can be pretty easily and affordably repaired. More severe problems, such as a cracked tank, will likely require replacement.
Energy efficiency: If your water heater is particularly old and inefficient, replacing it can help to improve your property's overall energy efficiency.
Feel free to give us a call for an assessment! As an experienced residential plumbing contractor, we can help you determine the most cost-effective solution for your needs.
Schedule your water heater service with our Dayton plumber team today!
The Benefits of a Sump Pump Installation in the Greater Miami Valley Area
While many people think that flood damage only occurs during significant storms like Hurricanes Katrina or Sandy, the truth is that flash flooding can happen at any time. That's why it's so important to have a sump pump.
A sump pump is a plumbing device that we install at the lowest point of your property, usually in the basement or crawlspace. Its primary purpose is to siphon away any water that might enter your home and prevent flooding.
Other benefits of a sump pump installation include:
Discourage mold and mildew growth: Excess moisture in your basement often leads to a mold or mildew infestation, which can cause serious health issues.
Prevent rust and corrosion: If you have a lot of metal in your basement or crawlspace, excess moisture can cause it to rust and corrode. This can create serious structural problems down the road.
Improve your indoor air quality: Sump pumps can help keep the humidity in your basement or crawlspace manageable, improving indoor air quality and preventing musty odors.
Increase your property value: A clean, dry basement with a working sump pump is a big selling point if you plan to put your property on the market.