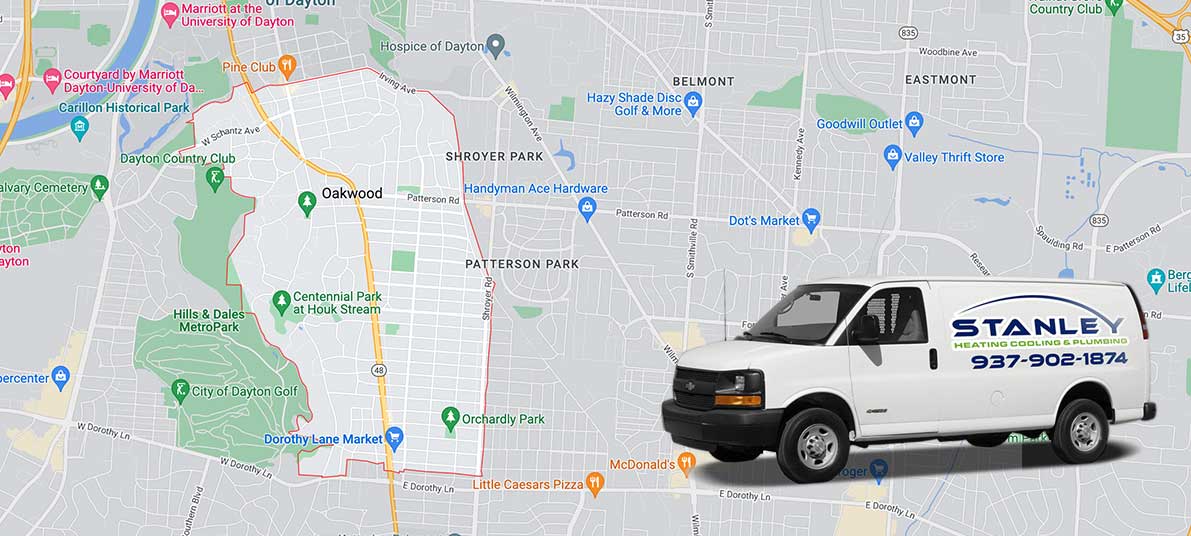 Everyone faces plumbing issues. But some plumbing problems can't wait. A burst pipe, leaking water heater, or gas leak — needs immediate attention.
Whatever the situation, locally owned and owner-operated Stanley Heating Cooling & Plumbing can come to the rescue. We have earned a solid reputation in the Oakwood, OH, area for on-time service, flat-rate pricing, and a satisfaction guarantee.
If you need a BBB accredited, A+ rated business you can trust to keep your plumbing system healthy, you've come to the right place. Don't hesitate to contact us for same-day service and straightforward pricing.
As Expertise.com's best AC repair service in Dayton, our record speaks for itself. Check out our reviews to see what our customers think about our services.
Emergency Plumbing Repair
When your plumbing breaks, you need it fixed as soon as possible. Contact Stanley Heating Cooling & Plumbing when you need a 24-hour plumbing service company that can repair or replace your plumbing quickly and efficiently.
No need to worry about a broken pipe flooding your property. You can count on our trusted technicians to relieve you of your plumbing worries as soon as possible. Once you contact us, one of our plumbers will arrive at your door promptly, ready to handle your plumbing issue.
Water Heater Services
At Stanley Heating Cooling & Plumbing, we understand that you can't plan for every situation. And when you need urgent hot water heater services, we go the extra mile to deliver 5-star rated services.
With our emergency services, we aim to ensure that no home or business in the Dayton Metropolitan Area goes without hot water. We have a wide range of repair and hot water tank replacement options to address any emergency.
Are you looking to enjoy instant hot water and other point-of-use water heater benefits? Contact us today for more information about our tankless water heater installation services.
Kitchen Plumbing Services
When you have to deal with the inconvenience of a jammed-up garbage disposal or burst pipe under your kitchen sink, it helps to know a dependable residential plumber that you can reach out to for plumbing repairs or replacement services in Montgomery and Miami Counties.
Look no further than Stanley Heating Cooling & Plumbing. We provide an extensive range of kitchen plumbing services in Greater Dayton and the Miami Valley Area, including:
Garbage disposal replacement and repair
Kitchen sink repair
Faucet repair
We're also a repiping company, so if you need some of your pipes replaced or even whole-home repiping, we're happy to take care of that too!

API Token is not configured