Stanley Heating Cooling & Plumbing is an HVAC company providing 24-hour air conditioner repair and maintenance in Dayton, Ohio. We are BBB accredited and deliver on-time service for all residents in the area. Our business is locally owned and 5-star rated by customers, and we're Expertise.com's Best AC Repair Service in Dayton.
We have straightforward pricing at affordable costs for all services. In addition, our customers are important to us, so we have a satisfaction guarantee for all of our work.
Does your home use a central heating system? Learn about our heating system repair and maintenance service and heat your home in cold weather.
Emergency AC Repair Throughout the Greater Dayton Area
We offer 24-hour air conditioner repair for all customers in case of emergency. We understand how important it is to have a working AC for you and your family. Our trusted technicians will help you find the problem and develop a solution quickly.
We also offer same-day service to provide fast repairs and maintenance. An AC is essential in warm weather, and having a well-working one will help save you money. You can count on us to help you whenever you notice your AC may need repairs.
Our emergency AC repair service is available 24/7 on the answering machine. Call us anytime to get live answers to your air conditioning questions and to schedule your emergency service.
Don't hesitate to reach out to us to get your AC working well again. Trust in our experienced technicians to perform the services you require.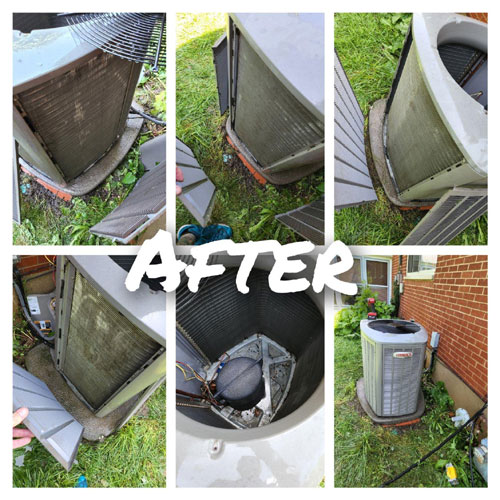 Air Conditioner Maintenance and AC Repair in Dayton
You should hire experts to help you fix your AC. Professionals will give you the proper service you need and have the correct equipment to prevent further damage. Before calling experts, though, here are some signs of common problems an AC may have.
Common AC problems:
AC unit or system is not producing cold air, even if you set the thermostat to the lowest setting. As a result, you may lack temperature control, and repairs are needed.
Sections in your house are not cooling efficiently. A malfunctioning thermostat could cause this issue.
Air not flowing correctly through the vents will cause your AC unit to work harder to cool down the property. This will cause an increase in your utility bill.
Moisture can leak around the AC. It indicates a drain tube is broken or blocked. Sometimes the leak can even be refrigerant, which professionals will need to replace.
An AC tune-up is the best way to maintain your system. You should get repairs as soon as you notice any issues. Our team will ensure your AC will run at its best performance.
We also have AC maintenance service at Stanley Heating, Cooling & Plumbing. It is essential to have a regular maintenance schedule by experienced professionals to prolong the shelf life of your AC system or unit.
During a professional maintenance inspection, our technicians will:
Check for any leaks and ensure the system has the appropriate amount of refrigerant.
Inspect electric terminals and apply a non-conductive coating.
Inspect air ducts for debris build-up and leaks.
Ensure there is a correct amount of air in the evaporator coil and inspect the coil for any other issues.
Check oil motors, belts, and other essential components.
Verify that heating and cooling sequences are not running simultaneously and ensure the correct electric control sequence.
Check the thermostat to see if it is working correctly.
Maintenance and repairs will help your AC system run efficiently and give you and your family the proper indoor air quality you need. Maintenance will catch minor issues before they become more severe and fix them on the spot. Call us to get your AC system working perfectly again in no time.
Besides AC repair and maintenance, we provide furnace repair and maintenance for all residents. Learn more about our furnace services and get a working furnace fast.
Hire Professional AC Services in Dayton, OH, and the Surrounding Areas
It is dangerous and challenging to try to repair the AC yourself. Hiring professionals for air conditioning tune-up or central AC repair is the best way to save money and stay safe. Stanley Heating Cooling & Plumbing has the AC services you need with friendly and experienced technicians.
Our business has flat-rate pricing for our services. We are an A+ rated business in Dayton, and our customers' experience in hiring us is essential to running our business. Our technicians are friendly and passionate about helping you.