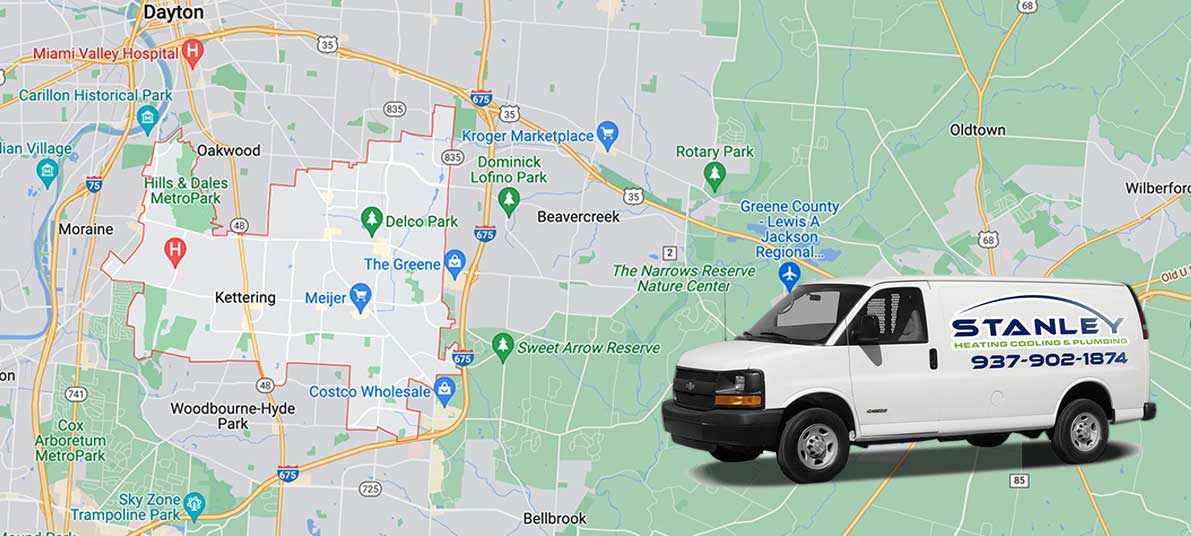 The summer heat in Kettering, OH, can feel oppressive without a working air conditioner. If you want to stay cool and comfortable all season long, Stanley Heating Cooling & Plumbing is here to help.
Our trusted technicians can handle all of your air conditioning needs, from central AC installation to AC maintenance services. We promise no less than straightforward, flat-rate pricing, on-time service, and your guaranteed satisfaction with every job.
We serve Kettering, OH residents and the neighborhoods of:
Bromfield
Rosewood
Lincoln Park
Stonehaven
Green Oak
The Greene
Orangewood
North Marshall
Hills and Dales
Rollandia Acres
We can deliver whether you need central AC repair or an AC replacement. Read our past reviews and see for yourself!
Timely Emergency AC Repair in Greater Dayton and the Miami Valley
It's the middle of summer, and your AC has just gone out. You're sweating, you're uncomfortable, and you need relief fast. That's where we come in.
Our 24-hour air conditioner repair services are second to none. Whether you're dealing with a simple problem like leaking refrigerant or a more complex issue like compressor failure, our team of highly skilled technicians will get the job done quickly and efficiently.
Expertise.com has consistently ranked us as the best AC repair service in Dayton, and we're proud to serve the Kettering community.
We Also Offer AC Installation and Replacement Services
Are you ready to upgrade indoor cooling? As an experienced air conditioning installation company, we're the team to call. We've worked with all types of cooling systems in various settings, so we know how to get the job done quickly and efficiently.
If you're not sure what type of unit is right for your space, we'll sit down with you to discuss your needs. Some factors that we consider include:
The size of the space
The number of people who occupy the space regularly
Your energy efficiency goals
Your area's microclimate
Your budget
An air conditioner tune-up is the best way to keep your system running smoothly all season long. Check out our maintenance plans to learn more!
The Benefits of a Ductless Mini Split System
Aside from our central air conditioner service, we also offer ductless mini-split solutions in Montgomery and Greene Counties. This type of cooling system brings several advantages like:
Energy efficiency: According to the U.S. Department of Energy, ductless mini splits can be up to 30% more energy-efficient than traditional HVAC systems.
Flexibility: Mini-splits are an excellent option for homes and offices that lack HVAC air ducts.
Improved indoor air quality: Ductless mini-splits circulate air more effectively than traditional HVAC systems, which can help improve indoor air quality.
Zoning capabilities: Mini-split systems feature smart zoning that allows you to adjust and control the temperature of each room independently.
We're a locally owned AC service company that can install, repair, and maintain ductless mini-split systems. So don't hesitate to get in touch with an air conditioning contractor today.