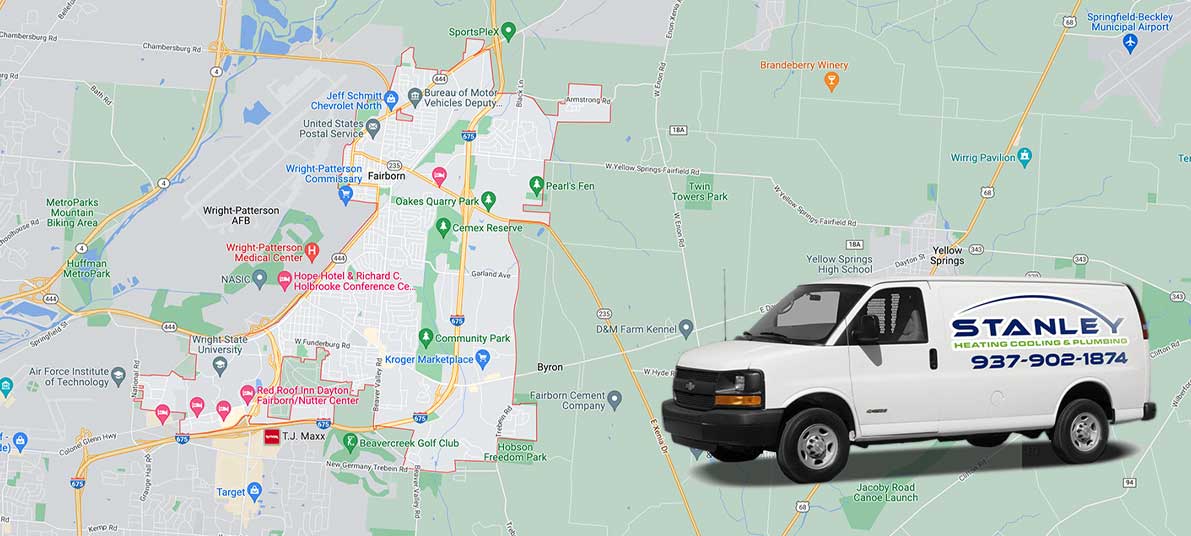 Do you have a leaking water heater, burst pipe, or other plumbing emergencies? We get that it can't wait. That's why our expert plumbers are available for emergency plumbing services. You can count on us to be there for your most urgent plumbing needs.
As a locally owned company, we look forward to providing you with the best plumbing services in Montgomery County, Ohio. We are 5-star rated and back our work with a satisfaction guarantee. Contact our BBB accredited, A+ rated company for flat-rate pricing.
We proudly serve Fairborn, OH, and the surrounding neighborhoods of:
Fairborn East
Byron
Holiday Valley
Fairborn South
Five Points
Fairborn Southeast
Fairborn Southwest
Fairborn Northeast
We take pride in being Expertise.com's best AC repair service in Dayton. We're a plumbing company, a repiping company, and so much more. Read our reviews to see why our customers love us.
Emergency Plumbing Repair
Since 2005, Stanley Heating Cooling & Plumbing has been the emergency plumber of choice for residential and light commercial properties in the Dayton, OH Metro Area. As a leading 24-hour plumbing service company, we provide superior plumbing and hot water heater repair services at affordable rates. We're your top choice for hot water tank replacement and whole home repiping in Fairborn, OH.
Our trusted technicians are trained to handle emergency cases and have dealt with all types of issues concerning water line systems, pipes, faucets, etc. You will never regret partnering with us as we offer straightforward pricing.
Tankless Water Heater Services
A tankless or point-of-use water heater lets you enjoy instant hot water, space savings, energy efficiency, and a longer system life span. However, when your tankless unit breaks down, you need to contact a residential plumber to fix it as soon as possible. Contact us the moment you notice any of these signs of needed repairs:
No hot water or insufficient hot water
Fluctuating water temperatures
Inconsistent water pressure
Odd noises coming from the water heater
Odd tasting, foul-smelling, or discolored hot water
We also offer tankless water heater installation in the Greater Dayton and Miami Valley areas. Contact us to learn more about our same-day services.
Kitchen Plumbing Services
The kitchen is one of the essential rooms in any property. Unfortunately, kitchens tend to be the center of plumbing issues. Some of the kitchen plumbing services we provide in the Fairborn, OH area, include:
Garbage disposal replacement and repair
Kitchen sink repair
Faucet repair
If you're facing any of these or other kitchen plumbing issues, don't hesitate to reach out to us, and we'll be at your door to diagnose and fix the problem as soon as possible.

API Token is not configured