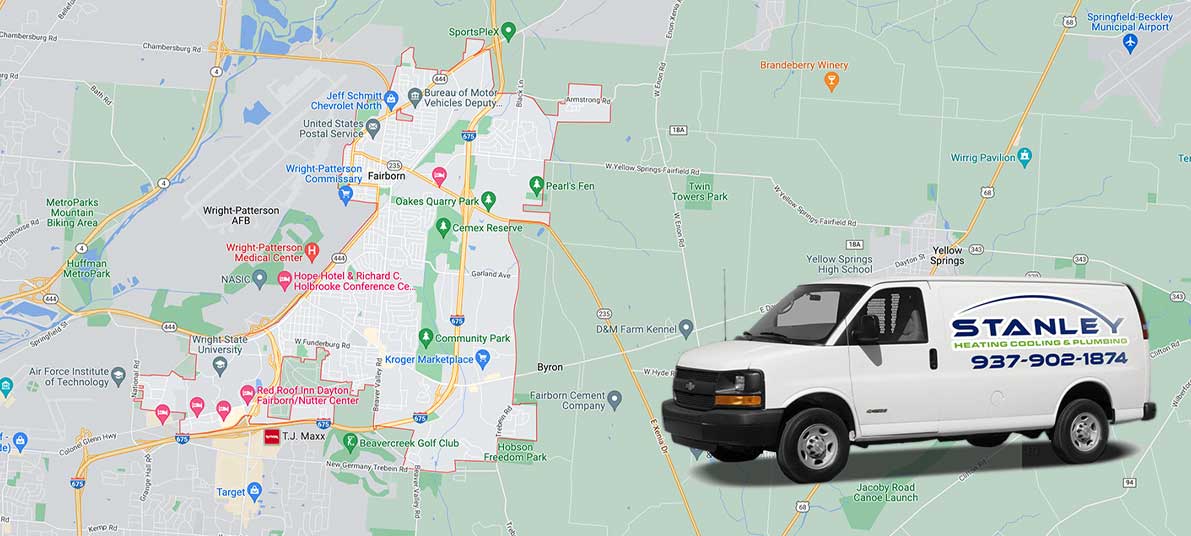 Your heating system is arguably one of the most critical components of your home's comfort. Having a damaged or malfunctioning heating or furnace during winter can seem no less than a nightmare. That's where Stanley Heating Cooling & Plumbing comes in.
We are a locally owned service company providing quality heating services throughout Fairborn, OH, and the surrounding area since 2005. Numerous residential and light commercial customers avail of our services, and we go above and beyond to deliver on our promise of maximum satisfaction each time.
In addition to offering a satisfaction guarantee on our services, we have a straightforward pricing policy and always arrive promptly to provide on-time service.
We proudly serve Fairborn, OH, and the surrounding neighborhoods of:
Fairborn East
Byron
Holiday Valley
Fairborn South
Five Points
Fairborn Southeast
Fairborn Southwest
Fairborn Northeast
We are a BBB accredited, A+ rated business. Check out our reviews to see what your neighbors in the Dayton, OH Metro Area say about us.
Emergency Heating Repair & Installation
Sometimes your heating system may break down when you least expect it. We understand your situation and know that unforeseen breakdowns can happen even when you schedule regular heating system tune-up and heating maintenance. That's why we offer 24-hour heating repair service throughout Greater Dayton and the Miami Valley area.
We have a skilled team of technicians who deliver 5-star rated heating repair services to restore your comfort. Our emergency heating service also includes heating replacement services. If your heating system has incurred damage beyond repair, you can count on our trusted technicians for top-notch heating installation.
Emergency Furnace Repair & Installation
Even if your furnace seems to be working fine, it helps to schedule furnace maintenance service at least once a year. A tune-up keeps your unit working efficiently and helps prevent sudden breakdowns. Call Stanley Heating Cooling & Plumbing for 24-hour furnace repair if your furnace stops working.
As an experienced furnace service company, we have the skills and experience to get your furnace up and running again as soon as possible. Our furnace service company also offers furnace installation and replacement services.
We take pride in being Expertise.com's best AC repair service in Dayton. Contact us to learn more about us and schedule same-day service.
Heat Pump Services
If you're in Montgomery County, Ohio, or the surrounding area, and need heat pump repairs, don't hesitate to contact Stanley Heating Cooling & Plumbing. We offer quick and affordable repairs to restore your home or business comfort. Our technicians have plenty of expertise in this field and can help get your pump up and running as soon as possible.
Delayed repairs could lead to more significant problems down the road. We recommend getting any issues with your heat pump fixed right away before they worsen and cost you more in the long run.