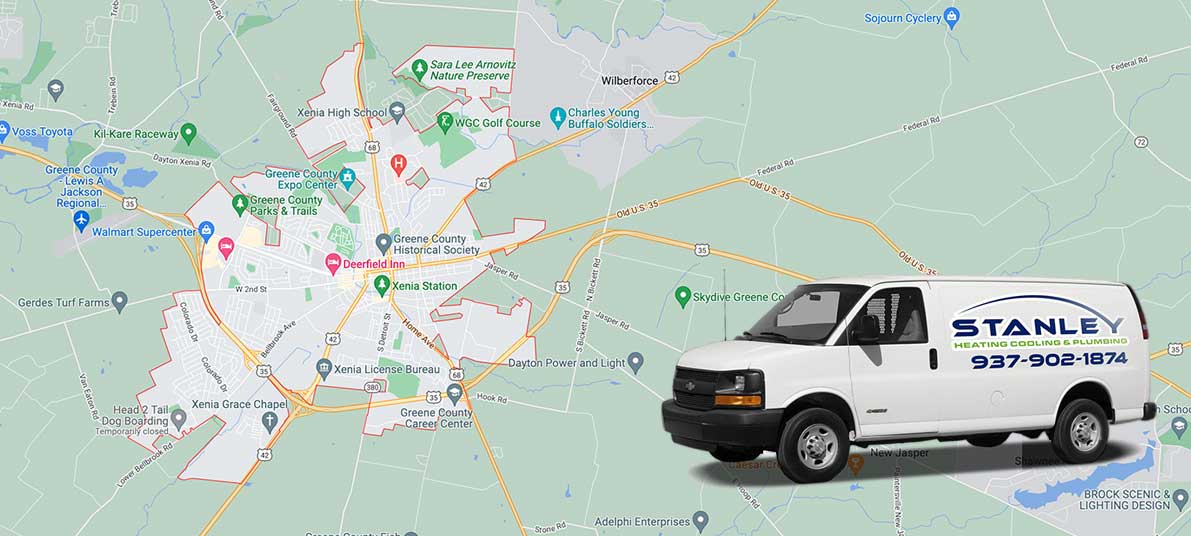 When you have a plumbing emergency — from a leaking water heater to a burst pipe, you need professional help fast. Call Stanley Heating Cooling & Plumbing for emergency plumbing services in Xenia, OH, or the surrounding area. Whether you need hot water tank replacement or whole home repiping from an expert repiping company, we've got your back.
As a locally owned BBB accredited and A+ rated business, we take pride in providing exceptional services, flat-rate pricing, and a satisfaction guarantee. Our trusted technicians and plumbers communicate clearly, ensuring that you understand any plumbing issues you're facing and solutions unique to your property.
Our 5-star rated services have earned us a reputation for exceeding customer expectations.
We proudly serve Xenia, OH, and the surrounding neighborhoods of:
Amlin Heights
Spring Valley
Bertarose
Lanewood
Thistlewood
Dorset Downs
Wright Cycle Estates
Callaway Hills
Stonehill
Stadium Heights
Wright Place
Deer Creek
We are Expertise.com's best AC repair service in Dayton. Visit our reviews page to see what our customers say about us.
Emergency Plumbing Repair
Plumbing emergencies tend to happen at the most inconvenient time. In most cases, urgent plumbing issues require immediate attention to limit property damage and protect your family. Stanley Heating Cooling & Plumbing offers emergency plumbing service to give you much-needed peace of mind and protect your property from potentially dangerous emergency plumbing issues.
You never know when you'll need an emergency plumber. We suggest having the number of a local residential plumber on hand for emergency repairs. Contact us for straightforward pricing.
Tankless Water Heater Services
A tankless water heater, also referred to as a point of use water heater, offers long-term savings, eco-friendliness, and, best of all — an endless supply of instant hot water. When something goes wrong with your tankless water heater, you need someone to fix the problem fast. We offer top-notch hot water heater service.
Stanley Heating Cooling & Plumbing offers emergency tankless water heater repair throughout the Greater Dayton and the Miami Valley Area. Whether your unit breaks down during the day or in the middle of the night, you can count on us to deliver the long-lasting solutions you need.
We also offer tankless water heater installation services in the Dayton, OH Metro Area. Contact us for more details and schedule service.
Kitchen Plumbing Services
The kitchen is arguably one of the essential rooms in a home. At Stanley Heating Cooling & Plumbing, we understand how important your kitchen is, which is why we offer emergency kitchen plumbing services throughout Montgomery County, Ohio.
Contact our trusted technicians today for the following services:
Faucet repair
Leak repair
Kitchen sink repair
Garbage disposal replacement and repair
API Token is not configured