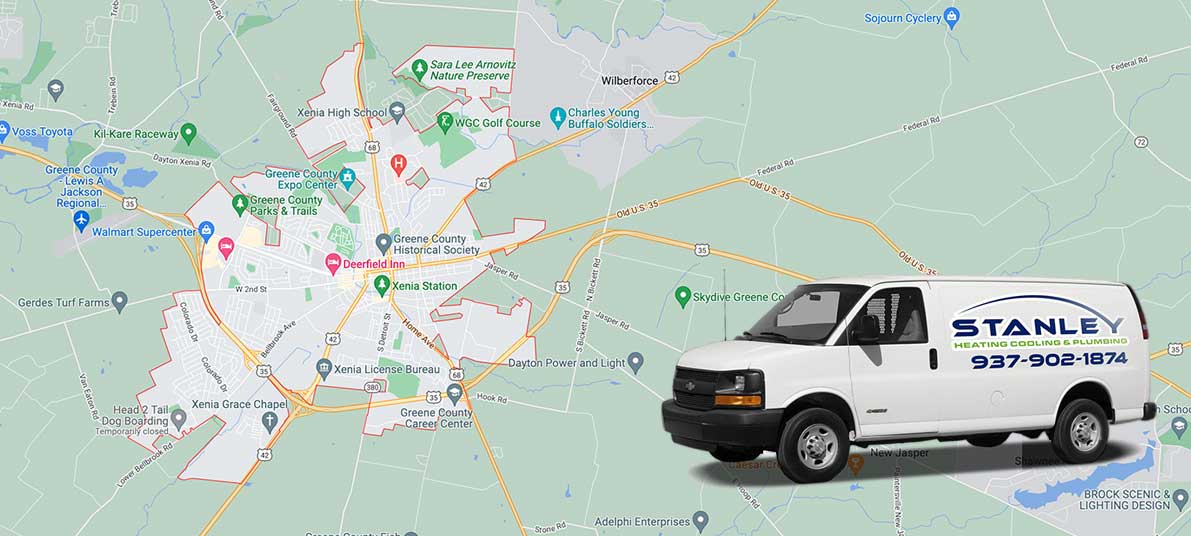 While Xenia, OH, doesn't have brutal summers, there's never a good time for your air conditioner to stop working. Stanley Heating Cooling & Plumbing offers emergency central AC services, so our customers don't have to suffer a broken AC as they wait for repairs.
We also offer AC installation, AC tune-up, AC replacement, and AC maintenance services throughout Montgomery County, Ohio. As a locally owned AC contractor, our AC service company wants the best for our customers. That's why we go above and beyond to deliver 5-star rated service and straightforward pricing.
We also back our services with a satisfaction guarantee.
We proudly serve Xenia, OH, and the surrounding neighborhoods of:
Amlin Heights
Spring Valley
Bertarose
Lanewood
Thistlewood
Dorset Downs
Wright Cycle Estates
Callaway Hills
Stonehill
Stadium Heights
Wright Place
Deer Creek
We're a BBB accredited, A+ rated business. Read our reviews to see what our customers think about us.
Emergency AC Repair
More often than not, your AC will show a few warning signs when it needs repair. If you notice any of the signs below, it's time to go ahead and schedule 24-hour air conditioner repair:
Strange noises and odd smells
A dramatic increase in utility bills
The AC runs, but it doesn't produce cool air
The AC won't turn on
Frequent cycling (system turns on and off frequently)
When you contact us, we'll inspect your system thoroughly and get to the root cause of the problem for a lasting solution. Even if all you need is an air conditioning tune-up, we're the top choice of air conditioning contractors to do the job right.
AC Installation & Replacement
Are you looking for an air conditioning installation company in the Dayton, OH Metro area? You've come to the right place. Stanley Heating Cooling & Plumbing offers top-notch central AC installation and replacement services. Whether you need an AC for your new construction project or yours has broken down completely, we can help.
Our licensed and certified technicians provide the highest quality central air conditioner service in the Greater Dayton and Miami Valley areas.
We are Expertise.com's best AC repair service in Dayton. Contact us today to learn more about us and schedule service.
Ductless Mini-Split Services
Ductless mini-split systems offer numerous benefits, making them an ideal option for many homeowners. Some of the benefits you will enjoy include:
Easy installation
Quiet operation
Improved air quality
Versatile installation
Energy efficiency
At Stanley Heating Cooling & Plumbing, our trusted technicians can help you not only with the installation of a new system but also with all your ductless mini-split air conditioner needs. We offer upfront flat-rate pricing on all our repair and installation services.