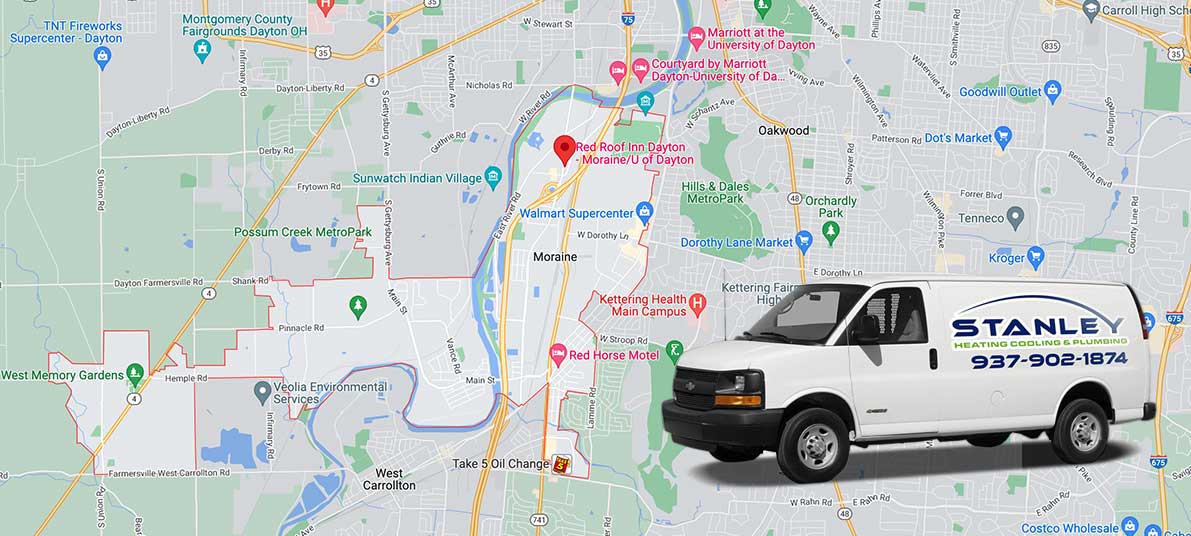 Like any other emergency, your heating system can stop functioning without a warning. When that happens, you need a heating contractor that can provide emergency heating services. We, Stanley Heating Cooling & Plumbing, offer fast, 5-star rated 24-hour emergency services throughout Moraine, OH, and the surrounding area.
As a locally owned BBB accredited company, we go the extra mile to deliver quality services. Contact us for on-time service, straightforward pricing, and services backed by a satisfaction guarantee.
We proudly serve Moraine, OH, and the surrounding neighborhoods of:
East River Rd
German Village
Holliday
Oak Ave
Payne Rec
Pinnacle Ridge
Our reputation as Expertise.com's best AC repair service in Dayton speaks to our quality of service. Read our reviews to see what your neighbors think about us.
Emergency Heating Repair & Installation
When your heating system breaks down during the coldest day of winter, you'll need to hire an expert for emergency heating service. Stanley Heating Cooling & Plumbing offers 24-hour heating repair service throughout the Dayton Metropolitan Area. If you contact us to handle a heating emergency, trust our professionals to arrive at your home or workplace on time with the proper tools to restore your heating.
We aim to ensure you have a safe and comfortable space for your family. If your system requires heating replacement, you can count on us for top-notch heating installation services. Contact us for heating maintenance and heating maintenance services as well.
Emergency Furnace Repair & Installation
If your furnace stops doing its job when you need it the most, consider hiring a furnace service company for emergency repairs. At Stanley Heating Cooling & Plumbing, our trusted technicians want to make sure you're warm during the winter months. Call us for emergency repairs if you notice any of these problems with your furnace:
Furnace won't come on
You smell a burning odor
Furnace struggles to heat your home
The unit doesn't respond to thermostat changes
Strange noises
When you contact us, we'll promptly schedule an emergency visit to repair or replace your furnace.
In addition to 24-hour furnace repair, we provide furnace installation and furnace maintenance services in Montgomery County, Ohio.
Contact us today for same-day service and flat-rate pricing. We're always happy to help out our Ohio neighbors.
Heat Pump Services
When your heat pump malfunctions in the dead of winter or on summer's hottest day, you need prompt repairs. We know emergencies can't wait, so we offer round-the-clock heat pump repairs in Greater Dayton and the Miami Valley Area.
If your heat pump stops working on a holiday or weekend, you can count on our A+ rated business to fix it.