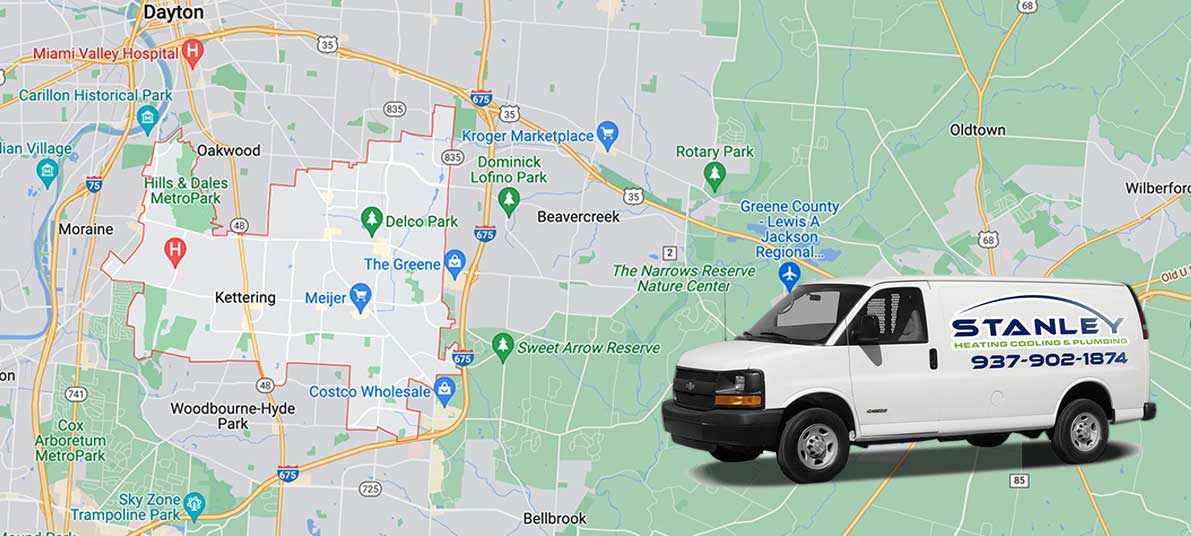 From taking a shower in the morning to brushing your teeth at night, plumbing is a necessary part of your daily routine. That's why it's essential to have a reliable plumber you can count on in an emergency.
At Stanley Heating Cooling & Plumbing, we offer quality servicing in Kettering, OH, and the surrounding area. Whether you need a garbage disposal replacement or kitchen sink repair, our trusted technicians can finish the job with zero fuss.
We serve Kettering, OH residents and the neighborhoods of:
Bromfield
Rosewood
Lincoln Park
Stonehaven
Green Oak
The Greene
Orangewood
North Marshall
Hills and Dales
Rollandia Acres
Consider reading our past reviews to see how we go above and beyond for every job, whether a hot water tank replacement or faucet repair.
Prompt Emergency Plumbing Repair in the Dayton, OH Metro Area
When disasters strike, you need a reliable emergency plumber who can get your system back on track as quickly as possible. This is where we come in.
Our team can fix any issue, from a leaking water heater to a broken faucet. We always start by assessing the situation, finding the root cause of the problem, and explaining potential solutions as we go.
Many in Greater Dayton and the Miami Valley trust us to handle their emergencies because of our transparency, dedication, and industry-leading artistry. We're Expertise.com's Best AC Repair Service in Dayton for a reason.
Why Get a Tankless Water Heater Installation?
Tankless, or point-of-use, water heater systems are becoming the norm in Montgomery and Greene Counties, and with good reason. Here are just some of the benefits of investing in this type of water heater:
Endless, instant hot water: Unlike your traditional system that stores hot water and eventually runs out, a tankless heater produces hot water on demand.
Less maintenance: Tankless units don't require periodic anode rod replacements or tank flushing.
Energy efficiency: Tankless water heaters can save you up to 34% on your water heating bill, making them an excellent investment for the long term.
Space savings: Since tankless systems are smaller, they take up less space in your garage or home.
If you're interested in installing a tankless hot water heater system or need your current unit repaired, call us. We offer same-day service in Kettering.
Learn more about us and how we worked hard to become a BBB accredited and A+ rated business.
A Repiping Company You Can Trust
Do you think you need your pipework replaced? If your home is suffering from weak water pressure, widespread leaks, and discolored water, reach out to us for an assessment.
Whole-home repiping is a big job, but our professionals at Stanley Heating Cooling & Plumbing are up for the challenge. As a 5-star rated and Home Advisor screened and approved team, we'll get the job done right and for a fair price.

API Token is not configured