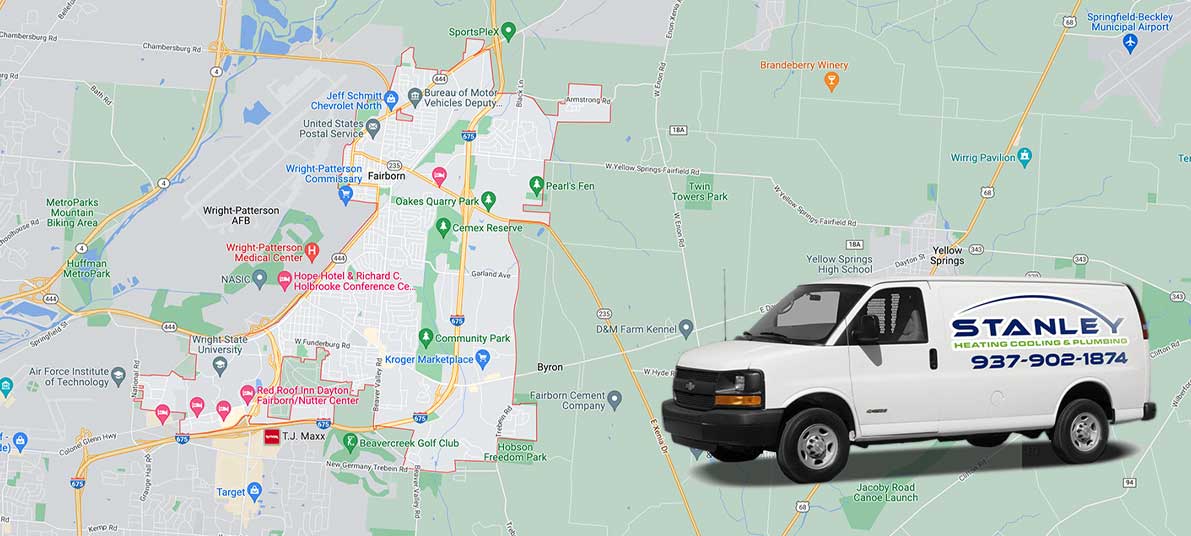 A home or office without cooling can make anyone quite uncomfortable. At Stanley Heating Cooling & Plumbing, we understand the value of a reliable cooling system, especially during the summer months.
Should your air conditioning system break down unexpectedly, we're just a phone call away. Contact our trusted technicians for 24-hour air conditioner repair and ac tune-ups.
We are an experienced air conditioning installation company offering central AC installation and air conditioner tune-up and AC maintenance services throughout Fairborn, OH, and the surrounding area. As a locally owned business, we care about the community and value customer satisfaction. You can count on us for straightforward pricing and a satisfaction guarantee.
We proudly serve Fairborn, OH, and the surrounding neighborhoods of:
Fairborn East
Byron
Holiday Valley
Fairborn South
Five Points
Fairborn Southeast
Fairborn Southwest
Fairborn Northeast
We're an A+ rated business and Expertise.com's best AC repair service in Dayton, with a 5-star rating and flat-rate pricing. Read our reviews to see why your neighbors trust our central air conditioner service.
Emergency AC Repair
It's hard to predict emergencies. All you can do is prepare for them. So, when your AC stops working in the middle of summer's hottest day, make sure you have an air conditioning contractor you can contact to fix your cooling system fast.
If you notice alarming issues like weird sounds, leaking, a burning smell, or no cooling, call us right away for prompt and professional central AC repair. We have 24/7 emergency service available in the Dayton, OH Metro Area, and are proud to offer same-day service.
AC Installation & Replacement in Montgomery County, Ohio
Over time, wear and tear can lead to an inefficient AC. If you've used your system for over a decade and it's struggling to maintain cool temperatures, an AC service company can assess your unit and help you make an informed decision.
Stanley Heating Cooling & Plumbing offers top-notch AC installation and AC replacement services in the Greater Dayton and Miami Valley areas.
Contact us today to learn more about our BBB accredited, A+ rated business and our services.
Ductless Mini-Split Services
If you have a ductless mini-split system that's not working as it should, call the experts before a minor issue turns into an expensive repair or replacement. Watch out for the following signs that your ductless mini split might be having problems:
Leakage or water pooling
Warm air blowing from the indoor unit
Strange sounds
Musty or dusty odors
If you suspect an issue with your ductless mini-split system, contact us before things get out of hand. We'll send out a technician to diagnose and fix your unit as soon as possible.