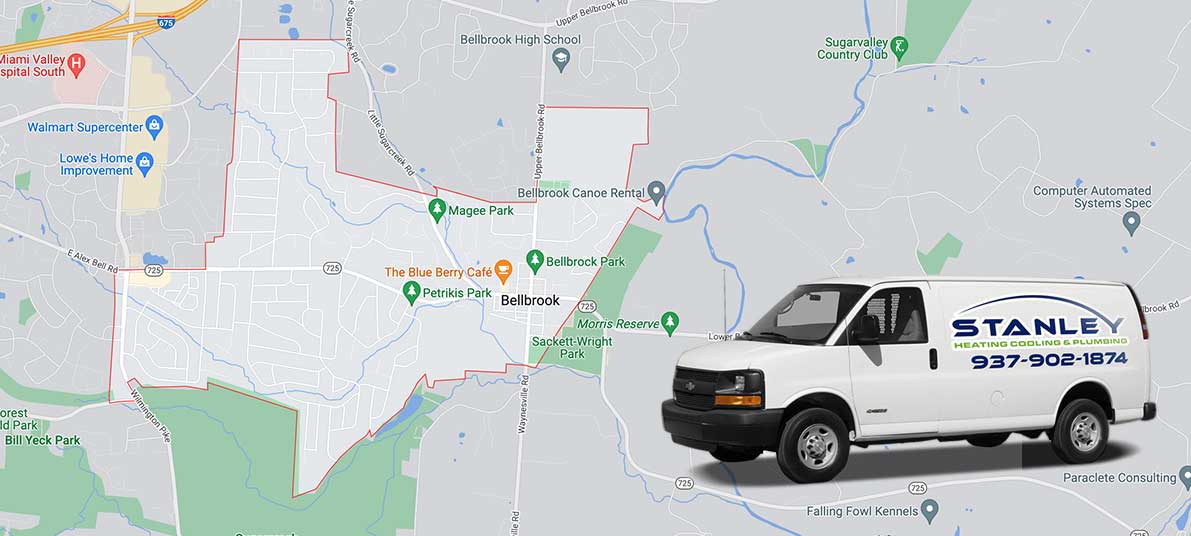 Are you looking for a reliable emergency plumber in Bellbrook, OH? Whether dealing with a leaking water heater or a broken faucet, you can count on Stanley Heating Cooling & Plumbing for timely assistance.
Our trusted technicians offer a full suite of services, including whole-home repiping and kitchen sink repair. Many in Greater Dayton and the Miami Valley choose us for their plumbing needs because of our fast, on-time service, straightforward pricing, and tailored solutions.
We proudly serve Bellbrook, OH, and the surrounding neighborhoods of:
Belleview Estates
Centerville Road
Deerfield/Wren Wood
Green Meadow Ranch
Hillcrest Dr
Kables Mill Sugarcreek
South Ferry Road
Washington Mill
White Fence Farms
Consider going through our past reviews to see why we're a Home Advisor screened and approved, A+ rated business.
Timely Emergency Plumbing Repair in Greene County, Ohio,
If you're dealing with an emergency, our team will dispatch a technician ASAP to get to the root of the issue. Some common plumbing problems include:
Leaky pipework
Poor water pressure
Faulty sump pump
Broken water heater
Gas line issues
Burst pipes
As a trusted 24-hour plumbing service company, we can tackle any issue without delay. No more waiting around for days on end for a technician to arrive! We're Expertise.com's Best AC Repair Service in Dayton for a reason.
The Benefits of a Tankless Water Heater Installation
Tankless or point-of-use water heater models are becoming the new norm in the Dayton, OH, Metro Area. Here's why:
Instant hot water: Tankless units can provide hot water on-demand, so you can enjoy an endless supply whenever you need it.
Lower energy bills: Because tankless water heaters only operate when needed, they can help save on your monthly utility costs.
Less maintenance: With no tank to flush and no anode rod to replace, tankless units require less upkeep than traditional models.
Smaller footprint: A tankless water heater is the perfect choice for cramped spaces, as they take up less space than traditional water heaters.
Longer lifespan: Tankless units generally have a longer lifespan than conventional tank heaters, so you can enjoy years of worry-free operation.
If you're interested in upgrading to a tankless water heater or need your existing unit repaired, get in touch with Stanley Heating Cooling & Plumbing today.
Are you looking for a locally owned repiping company to handle your future or current home needs? Contact us and discover your options today!
Kitchen Plumbing Services
Do you need a faucet repair service? Maybe you're planning to invest in a garbage disposal replacement. As experts in all things kitchen plumbing, our team can take on any job, big or small.
We understand that every home is different, so we always tailor our services to meet your specific needs and budget. We will discuss your requirements with you, explain your options, and provide a flat-rate price before we get started. That way, there are no surprises when it comes time to pay the bill.

API Token is not configured