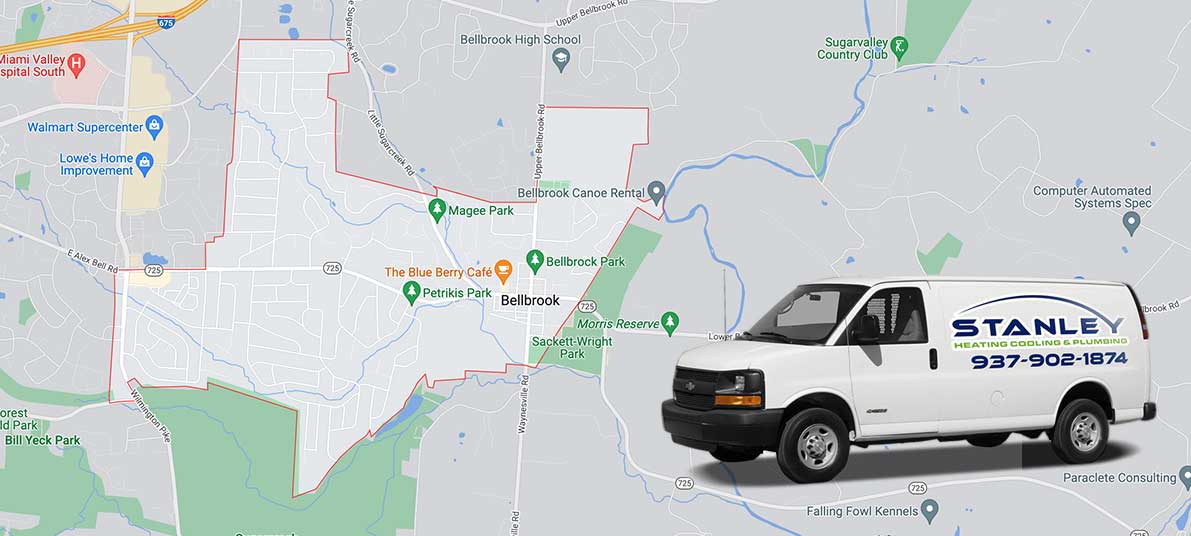 If you live in Bellbrook, OH, you know that the winters can be brutal. That's why it's so important to have a reliable heating system in your home or business.
We at Stanley Heating Cooling & Plumbing offer a full range of HVAC services to keep your indoor spaces warm and comfortable all season long. From heating maintenance to 24-hour furnace repair, we have you covered.
Expect no less than straightforward, flat-rate pricing, on-time service, and your satisfaction guaranteed when working with our trusted technicians.
We proudly serve Bellbrook, OH, and the surrounding neighborhoods of:
Belleview Estates
Centerville Road
Deerfield/Wren Wood
Green Meadow Ranch
Hillcrest Dr
Kables Mill Sugarcreek
South Ferry Road
Washington Mill
White Fence Farms
Read our reviews and see how we bring our best to every job, whether a furnace maintenance service or a heating tune-up.
Emergency Heating Repair and Installation
When your heating system stops working during a particularly chilly Ohio winter, you need someone you can trust to fix it quickly, efficiently, and without breaking the bank. That's where we come in.
As an experienced 24-hour heating repair service, we can handle any issue, big or small. We'll listen carefully to your concerns, answer any questions you may have about the repair process, and work diligently until we resolve the problem.
Aside from our reliable emergency heating service, we also offer heating installation and replacement solutions when you're ready to upgrade. We're Expertise.com's Best AC Repair Service in Dayton for a reason.
Emergency Furnace Repair and Installation in the Dayton, OH Metro Area
While furnaces are some of the most durable home heating systems available, they are not indestructible. You may need a furnace service company if your unit is:
Making strange noises
Showing signs of rust or corrosion
Failing to produce heat
Cycling on and off frequently
Producing odd smells
If you are experiencing any of these issues, call us to schedule your same-day service today. We can also provide a furnace installation when you need to replace an outdated system.
As a Home Advisor screened and approved, A+ rated business, we strive to answer every client concern. So don't hesitate to contact us today.
The Advantages of Switching to a Heat Pump System
If you plan on getting a heating replacement, you may want to consider a heat pump system. Here's why:
Lower utility bills: According to the U.S. Department of Energy, heat pump systems are much more energy-efficient than traditional heating systems.
Longer lifespan: With proper maintenance, heat pump systems can last up to 15 years—twice as long as most furnaces.
Year-round indoor comfort: Heat pump systems are convenient in that they can provide both heating and cooling to your home.
Improved air quality: Many heat pumps come with a filtration system that removes dust, mold spores, and other airborne allergens.
Whether you want a heat pump installed or need your current one serviced, our experts can help. We will keep your system running at its peak so you can enjoy the comfort and convenience of a reliable system.