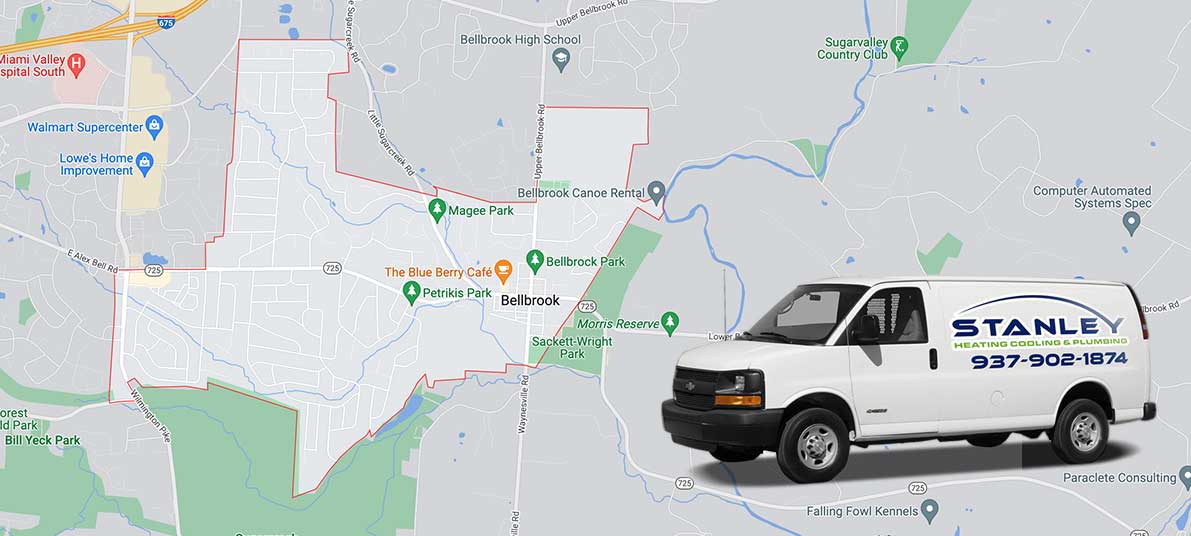 The summers in Bellbrook, OH, are long and oppressive. If you want to keep your indoor spaces comfortable during this time of year, look to Stanley Heating Cooling & Plumbing.
We're the top air conditioning contractor in Greater Dayton and the Miami Valley. With a full staff of trusted technicians, we can handle anything from central AC repair to AC maintenance services. No more dealing with uncomfortable, sticky rooms — we're here to make your home or office a cool oasis.
We proudly serve Bellbrook, OH, and the surrounding neighborhoods of:
Belleview Estates
Centerville Road
Deerfield/Wren Wood
Green Meadow Ranch
Hillcrest Dr
Kables Mill Sugarcreek
South Ferry Road
Washington Mill
White Fence Farms
Read our reviews and see why we're the most reliable AC service company in Green County, Ohio.
Do You Need Emergency AC Repair?
Don't wait until your cooling breaks down completely to call for 24-hour air conditioner repair! If you want to avoid unnecessary costs, reach out to us immediately the moment you notice these warning signs:
Weak airflow
Strange noises
High energy bills
Frequent cycling
Poor cooling performance
Water leaks
Whatever the problem, you can trust our 5-star rated and BBB accredited team to provide a lasting and cost-effective solution. Expertise.com has named us Dayton's best AC repair service, so you know you're in good hands.
Let Us Handle Your Central AC Installation or Replacement
Are you planning to get a new cooling system for your home or office? As an experienced air conditioning installation company, we can outfit your property with a top-of-the-line unit that will serve you well for years to come.
If you need help picking out a suitable model, our team would be happy to offer recommendations. We will discuss your needs, assess your indoor space, and help you find an energy-efficient system within your budget.
When was the last time you scheduled an air conditioner tune-up? Contact us to get your same-day service today!
Ductless Mini-Split Systems: A New Way to Cool Your Property
Apart from our central air conditioner service, we also provide ductless mini split solutions. This type of cooling is becoming more popular in the Dayton, OH, Metro Area thanks to its many unique benefits:
Improved energy efficiency: Ductless mini-splits use less energy than traditional cooling systems, saving you money on your utility bills.
No ductwork necessary: The main benefit of ductless mini-splits is that they don't require any ductwork, making them a solid alternative for smaller properties.
Zoned temperature control: Ductless mini-splits offer the ability to cool individual rooms or areas.
Quiet operation: You'll love how ductless mini-splits run more quietly than traditional cooling systems if you value peace and quiet.
Our team can install a new unit for your property or service your existing system, so contact us today.