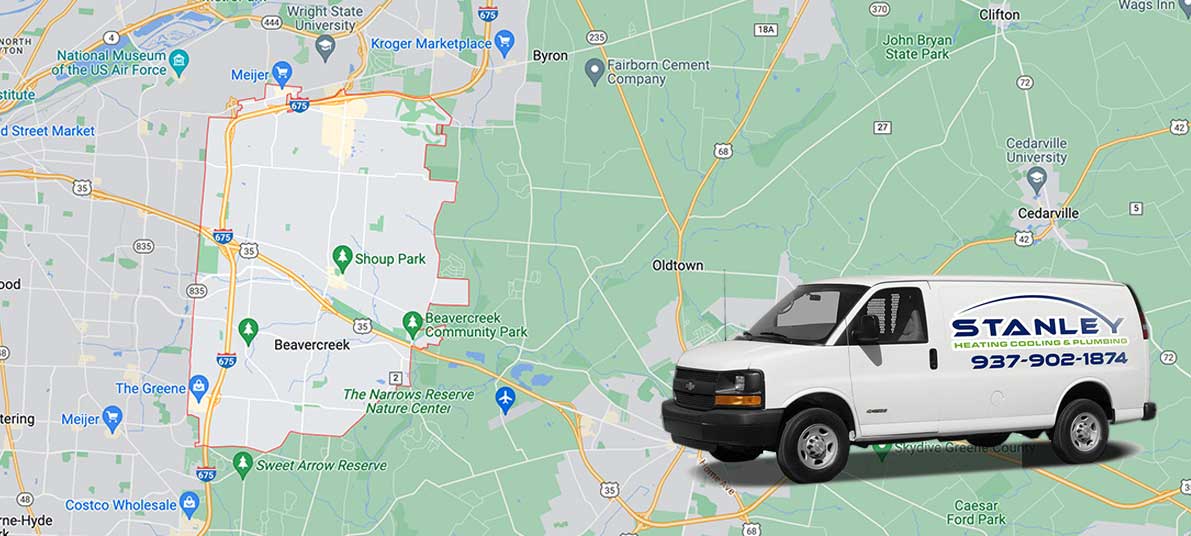 Knowing who to call for help can save you so much time when you have a plumbing issue. Reach out to Stanley Heating Cooling & Plumbing when you need a skilled residential plumber in Beavercreek, OH, or the surrounding area.
Whether you're dealing with a hot water heater issue or need whole-home repiping services, you can trust us for straightforward pricing and on-time service backed by a satisfaction guarantee. Our locally owned BBB accredited company boasts a team of trusted technicians who strive to exceed customer expectations.
We proudly serve Beavercreek, OH and the surrounding neighborhoods of:
Ashland Hills
Beaver Valley
Grove Hill
Hickory Ridge
Stonebridge
County Line
Knollwood
Tara Falls
Ferguson Estates
Mallard Landing
Walnut Grove
Parkwood
As an A+ rated business and Expertise.com's best AC repair service in Dayton, we set ourselves apart from other companies. Please read our reviews to see what your neighbors think about us.
Emergency Plumbing Repair
Plumbing emergencies, like a leaking water heater or burst pipe, can ruin your day. A plumbing emergency may lead to mold growth, water damage, and other structural problems. The sooner you call the professionals to fix your plumbing issue, the better.
Whenever you need a 24-hour plumbing service company, contact Stanley Heating Cooling Plumbing for quality services throughout Greene County, Ohio. We have the training and experience to diagnose and help you restore your damaged plumbing system.
Tankless Water Heater Services
A tankless or point-of-use water heater offers instant hot water, space savings, and improved efficiency. If you have a standard water heater, and the time comes for hot water tank replacement, consider investing in a tankless unit.
We can help you determine if going tankless makes sense for your property and guarantee professional tankless water heater installation. Should your tankless unit need repairs and maintenance, count on us for 5-star rated service and flat-rate pricing.
Look out for the following warning signs that show you need tankless water heater repair:
Fluctuating water temperature
Leaky system
Odd noises
The system keeps turning off at irregular intervals
Are you looking for a repiping company in greater Dayton and the Miami Valley area? We offer repiping services! Contact us to schedule service.
Kitchen Plumbing Services
Stanley Heating Cooling & Plumbing offers quality kitchen plumbing installation, repair, and replacement services so you can enjoy your kitchen and all of its plumbing components to the fullest. Some of our services include:
Kitchen sink repair
Faucet repair
Garbage disposal replacement
Let us know when you need quality kitchen plumbing service, and we'll handle the job right from start to finish. Call us today, and we'll send a residential plumber to fix your kitchen plumbing. We proudly serve the Dayton, OH Metro Area.

API Token is not configured